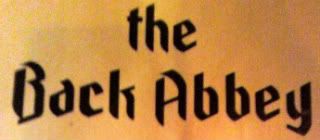 Lately, I've been down in the dumps for a number of reasons, but I completely forgot about it all and I have The Back Abbey to thank.
Last night, the missus and I went to a Chimay sponsored dinner in celebration of their 25th anniversary of export to the U.S.
Tickets cost us 25 smackers each, how could we not go?
When we arrived, we found each table adorned with booklets, pens, bottle wrenches, and special edition commemorative Chimay goblets (instant collector items worth the price of the ticket alone).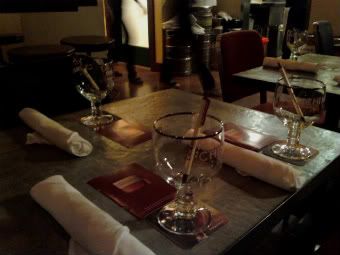 Needless to say, I was giddy and, admittedly, partially aroused by the sight and anticipation of what was to come.
Upon the start of the event, we were addressed by the owner, John, and the Chimay representative. They went over a little bit of history of Chimay and John expressed his excitement for his ties to Chimay, being that he owns a Belgian beer pub and also that he has a deep passion for Belgian beer.
The first course was a cheese plate paired with Chimay White (a Belgian trippel).
Good presentation, the missus enjoyed the cheese and apples. (I don't eat cheese)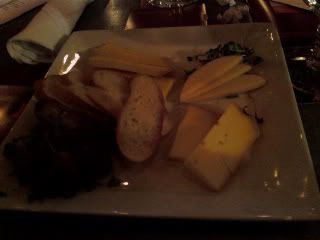 Here's the beer in said special goblet;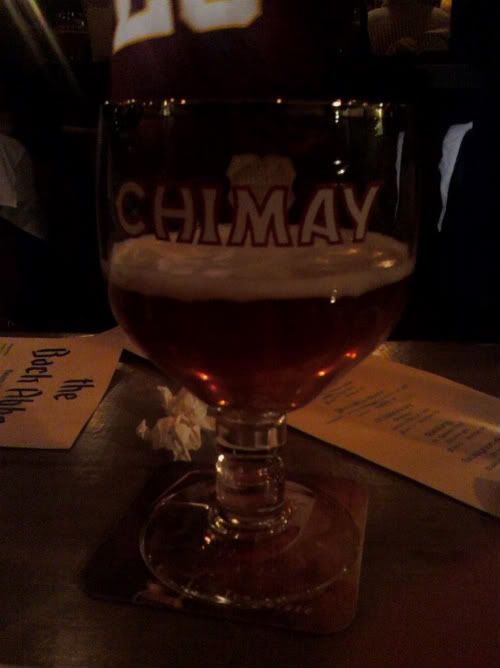 The following course was especially delicious and also paired well with the trippel;
it was a delicious semi-spicy crab cake accompanied by some pickled garnish.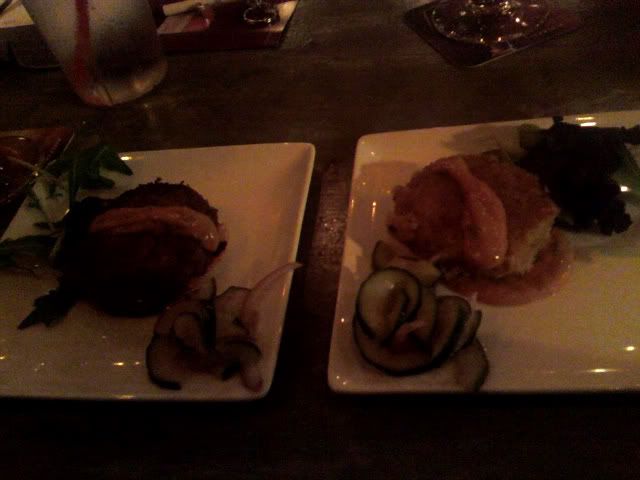 Now, keep in mind- we were being thrown free stuff left and right. The tickets were only 25 dollars and the food up until this point had already exceeded expectations- how were they able to pull this off? Well, it's part of Chimay's campaign to celebrate it's existence in the States and continued growth in the premium beer market. And it was wonderfully timed with John's unveiling of new food items to his already delicious "Gastropub" menu. This was an unbelievable spread, but there's more.
The second beer was the Chimay "Red." this is a delightful "dubbel" with a warm taste yet delicate mouthfeel, almost impossible for such an abbey ale.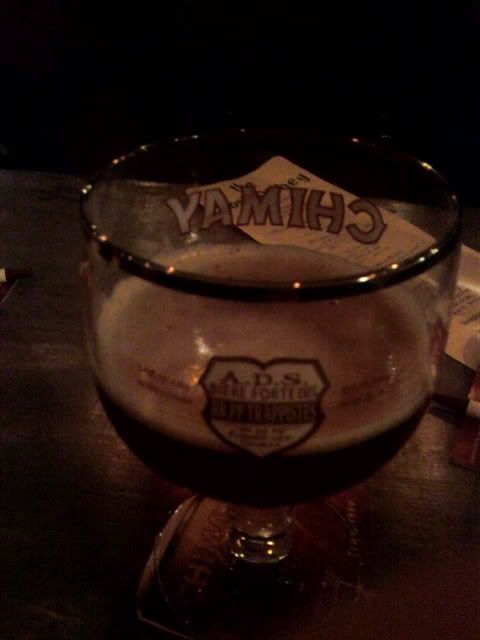 This beer was expertly paired with a roasted pear and hazelnut salad with a light vinegarette and feta cheese. (mine was sans fromage- thanks BA)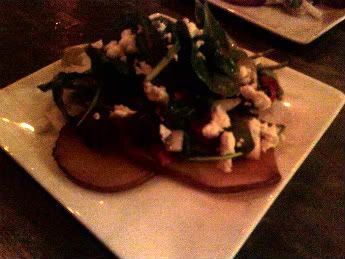 I should also inform you that the crowd here on this night varied from a man with, I could not make this up, cheetah spotted dyed hair, to a table of cosmopolitan gay men, to an old man with a cheap looking date who knew nothing of beer and was annoying me, to yours truly ( a fat brown dude that can outdrink the entire room of weekend booze warriors). Now, I'll be the first to tell you, I do not fancy Chimay completely, but this was indeed something I, as a beer lover, could not pass up. I specialize in American craft.microbrew beer, and I love, especially, the beers we make here that emulate Belgian styles. Every once in a while, though, it's nice to get back in touch with the roots and I couldn't be happier about the Back Abbey's existence and seeming success.
Now, back to the dinner-
The last pairing was the most amazing feat of the night. I had starved myself all day and I was greatly rewarded with Chimay "Blue" and an 8 oz. filet mignon with mushroom gravy and steak fries.
This was the point where I ejaculated all over the table and the missus fainted. (well, practically)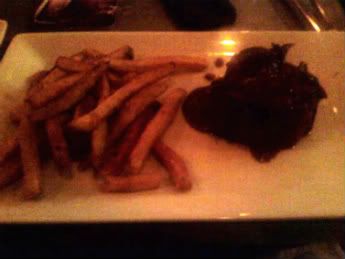 Here's the "blue" a strong dark ale that helped the lacy mushroom gravy blend into the deliciously buttery steak
It was a great success and "Cheers" to John, the great Back Abbey staff, and of course to Chimay.
Happy birthday Chimay, you'll always be America's "Belgian."
And to you nay sayers- Fathers Office could never have pulled this off, nor would ever be in a position to make me happy by not putting cheese on something- this is the last word on the debate.