Thanks John Clifford for poking me in the ribs as a means to get me to post more.
Anyhow, Sunday's tasting was great. We had the largest turnout thus far for my beer tasting. I'd say it was close to 20 people. Doesn't seem like much, but it is once you consider my format is much different from dba's conventional wine tasting format.
Well, as promised- there were stouts. Here is some of the information covered in Sunday's class.
Well, stouts originated in Britain of course. But the original term referred to Porters- more precisely; porters stronger in alcohol content. This was the application of the literal term "stout."
At this time, stout referred to any strong ale, but being more commonly used to differentiate between variations of porter as offered by any singular brewery. SO, brewery A could be brewing pale ale, golden ale, porter, and stout porter. There may be two porters with differing strengths- thus necessitating an adjective of "stout."
But what does it mean now?
I'm glad you asked. Today, stouts apart from the traditional dry Irish stouts, and cream/milk stouts are different from porters in the dominating aspect of malt differences. Stouts usually are higher gravity and have more roasted malt flavor.
There are porters with smoked and roasted malt, but more often than not, they simply contain dark malts, as opposed to treated malts...
to go along with the beers, I thought we needed some blueberries and black licorice. And you know what?
It worked perfectly- the bit of acidity form the berries and the deep flavor from the black licorice helped provoke some of the more tasty nuances of the brews...
Our first beer in our taste lineup was Beamish Irish Dry Stout
Beamish exhibited a very light body with creaminess and a touch of coffee. Pretty standard.
Our second beer was Guinness
Guinness is guinness...it's a little roasty and a little thicker, but it's not some huge beer like college kids think it is...it has less calories than the equivalent glass of skim milk!!!!
Our third beer was Sierra Nevada Stout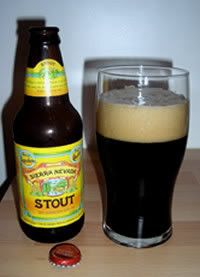 Now this beer, was moderate in mouthfeel, nice and roasty with this little twinge of sweetness right before a decent dryish finish. This is what a stout is supposed to be from an unlikely place. I bet most of you thought Sierra Nevada only made Pale Ales!!!!
Now, our fourth stout was the delicious Goose Island Bourbon County Stout
This beer pours like motor oil, smells like soy sauce and has the most beautiful dark fruit flavors blanketed in smoky earthiness. Like eating the remnants from an orchard fire started by burning chocolate.
If you see this beer, buy it, and enjoy it. Put it in a glass with some vanilla bean ice cream....
SGV Tribune came by and took photos of the tasting!!! My Cele-brew-ty status is growing, but my only concern is why SGV trib is hip to me, but the Bulletin hasn't given me the time of day!!!!!