Here's the past three days (in beer):
Saturday
- The guys (Alex, Adrian, Manuel,
Kevork
) and I went to Stone brewing for dinner. It was delicious as ever. I even got to knock off a few more
IPAs
off of my to-do list.
Boulevard Double Wide IPA
- the Missouri based brewery put out this gem as a special series beer (meaning, not a year round offering). The label was
reminiscent
of
those
vintage style art deco-
ish
posters. On said label was a double wide mobile home- label art rarely gets quirkier than this. Now the contents of this cocksucker were grand- most
IPAs
(west coast, especially) have deep floral scents with varied citrus accents. Not this bad boy, though. It reeked of apples and acidity (like a cider almost) and along with that apple scent was a taste like apples with slight hints of laundry detergent rose. Decent beer at 8.5%
ABV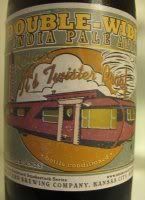 Coronado Idiot IPA
- this is a San Diego IPA if one ever existed. Coronado puts out great beers, such as their Mermaid Red and the Belgian Style IPA. It's very bitter, but with a frothy texture almost. It's as yellow as the sun on a third grader's drawing of heaven. Good beer to round out my experience with Coronado brewing.
Alesmith
Yulesmith
- this is a special release. It is an IPA that shows up around Christmas, (hence the name) but it is so good they
release
it in summer as well, so we can all have
Christmas
in July.
Alesmith
couldn't make a bad beer if they used urine instead of water....enough said. Bold,
Hoppy
,
Alesmith
- hooray for Jesus' Birthday!!!
Sunday
- I showed up to the fair for my Beer Tavern shift.
Calferm
was generous enough to give me two tickets for free (one for me, and one for
Melissa
) and a parking pass. the best part of all was getting to try some new beers.
Odell Brewing IPA
- I was very happy to see this beer. Odell is a Colorado based brewery and doesn't distribute to the West Coast at all...the best part about the beer tastings at the fair is that
Calferm
requires all participants to provide beer (kegs and cases) for each entry involved. This means if they want to be judged, they have to put out. And we get to not only try new beer, but we get to try beer that we can't get
a hold
of under normal circumstances. Fuck imports, getting beer from Colorado can be a hassle, but thankfully, this IPA found its home in my belly. The flavor was great- Colorado beers can be just as bold as California beers. This IPA had an amazing bite to it, but had an inviting aroma,
mouthfeel
and begins with a fluffy, creamy hello. Bravo!!!!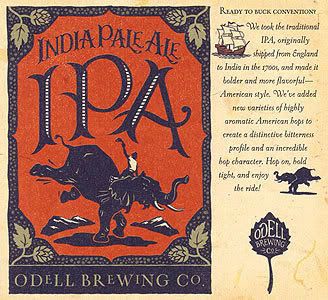 Belmont Brewing Long Beach Crude
- nice
chocolaty
lacing makes this stout delicious. It's malty, and rides the line between sweet and export style stout. Not sweet, and not dry, but perfectly drinkable.
Belmont Top Sail Ale
- eh, I'm not a huge fan of amber ales, but this one reminds me of an amber ale you might find in England because it's creamy like an
ESB
, but a little watery like an Amber, so I'd say it's an
involuntary
hybrid- not sure of that's what the folks at Belmont were going for.
Moylan's

Kilt Lifter Scotch Ale
- Oh, how mother loved her Scotch- and I, my Scotch Ales. I love Scotch Ales...this one had a perfect balance of malts and kept a nice full body the entire time, it finished off like a gent in a hurry though. Good beer, and nicely alcoholic.
Monday
- The missus and I had dinner at the Buffalo Inn (finally). Good buffalo burgers, and an okay selection of beers. (6 out of 10 for effort). I realized I can have half a pitcher of Stone Pale Ale and two 22 oz. bottles of Stone Arrogant Bastard and still enjoy myself instead of wishing there was IPA somewhere in the facility.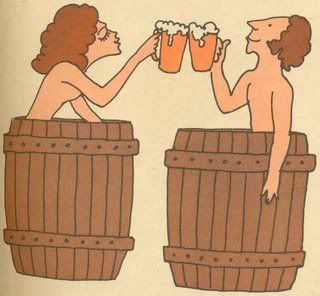 I will follow this post with my actual post on my shift at the fair....so stay tuned